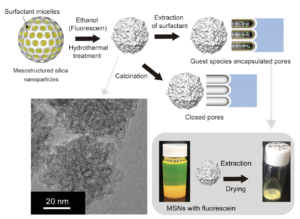 E. Yamamoto, C. Lulu, T. Watanabe, S. Mori, H. Wada, A. Shimojima, K. Kuroda "Formation of Closed Pores in Mesoporous Silica Nanoparticles by Hydrothermal Treatment", Bull. Chem. Soc. Jpn., just accepted. 
DOI:doi:10.1246/bcsj.20210025
Abstract
Mesoporous silica nanoparticles (MSNs) with closed pores have significant potential for applications such as low-dielectric-constant materials and bio-imaging careers owing to their controlled accessibility. In this study, we successfully prepared MSNs with closed pores by a simple hydrothermal treatment in ethanol. The mesostructure changed from open to closed mesopores through hydrothermal treatment. This simple method enabled the
preparation of closed pores with encapsulated guest species
.